Andrea Bernhard, MD
FAMILY MEDICINE
Dr. Bernhard became a physician in order to make a positive difference in people's lives. Her goal is to treat every patient with respect and dignity, and to deliver the highest quality care. Dr. Bernhard has lived in Hawaii for 10 years, and even completed her residency at the University of Hawaii. In her own words, "I get to care for wonderful people in one of the most beautiful places in the world."
<< URGENT CARE
Eczema Triggers and Irritants
The body has a tendency to become inflamed from time to time, and the inflammation does not happen as a reaction to any outside substance.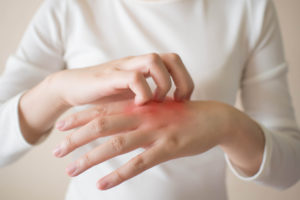 What is eczema?
Eczema can be of two types based upon eczema irritants:
Atopic eczema: The body has a tendency to become inflamed from time to time, and the inflammation does not happen as a reaction to any outside substance.
Contact dermatitis: This is a reaction to a substance outside the body. Areas of the skin that come in contact with the eczema irritant become red and inflamed. If the person avoids the eczema irritant, the inflammation goes away.
The rest of this article deals with atopic eczema.
Triggers and irritants for atopic eczema
There are no apparent reasons for flare-ups, but some possible triggers are:
Soaps and detergents – Soaps and detergents make the skin dry and itchy and so should be avoided. Use a thick moisturizer substitute. Wear gloves with a cotton lining when using detergents.
Toiletries and perfume – It is best to avoid these. 
Clothing – Wear smooth fabrics like cotton rather than rough fabrics like wool. 
Temperature – Extreme hot and cold temperatures can trigger eczema.
Stress – Even though stress does not cause eczema, scratching in response to stress can lead to eczema.
Infection – Infection can increase the chances of eczema.
Dust mites – Most people with eczema are allergic to dust mites. However, it is not possible to live in a completely dust-free environment. Therefore it is recommended that such people try to reduce exposure by maintaining a relatively clean home and avoiding dusty places.
Pets – Some people are allergic to animal hair or saliva, and that triggers eczema. In such cases, it is worth removing the animals from the house.
Food allergy – Allergies to a certain food worsen eczema. Common food allergies include cow's milk, eggs, fish, nuts, and wheat.
How do I know if food is making eczema worse?
Sometimes food allergies occur immediately with symptoms developing within two hours of eating. Symptoms include itching, redness and swelling around the mouth. In some cases, you may experience abdominal pain, nausea, wheezing, itchy eyes and sneezing.
Sometimes there is a delay in the symptoms of food allergy with signs showing up after 6-24 hours. Symptoms include worsening of itching and eczema. 
Keeping a food diary may help you confirm a food allergy, with the best way being to avoid it for a few weeks and see if symptoms become better, and then deliberately eat it and monitor for worsening symptoms.
Here are some of the conditions we treat:
Here's what people are saying
Kaimani
North Shore, Oahu
"I thought the whole process was pretty cool. To be able do this all on the phone instead of wasting an hour or two to see my doctor and wait all that time to speak with my doctor for only 5 minutes. The best part was I didn't feel rushed either during the video consult. The doctor really took her time speaking with me and more so than my regular doctor would have the time to do so with me.
Susan
Manoa, Oahu
This was so convenient for me and my family, especially since we are traveling and this saved me a trip to Urgent Care, who knows how long that could have taken. I appreciate how prompt the doctor and the staff were with contacting me.
Meliana
Lahaina, Maui
This was so great for my Dad to use as he is visiting from another country and he doesnt have health insurance. For something as simple as an earache, we didn't have to spend so much money on a quick doctor's visit. Plus the doctor was able to help my Dad sooner than our scheduled appointment!
Nalu
Mililani, Oahu
"Everything was very helpful from the initial call down the getting my prescription. I wish I could take this service back home with me to Canada!"
Allie
Lahaina, Maui
The whole experience was super fast! That was thee fastest appointment I have ever had, especially for something as simple as a prescription refill. Plus I had to pick my son up for school.
Nicki
Kapolei, Oahu
The fact that I was able to do all of this without getting out of my bed. From the time I made my appointment to hearing my prescription is ready, its been less than 1 hour.
Kawika
Aiea, Oahu
Video consult was my favorite part. I've never done a telemedicine visit before and it was cool. I can really see this being great for people with busy schedules, not to mention there is nothing like this in Hawaii yet.
Salesi
Lihue, Kauai
"Convenience from the comfort of your own home. Some times it can be a hassle getting out of house when you're already not feeling well to see your doctor, or even just to get a refill. But this is a very convenient service."
Andrea
Kailua, Oahu
"Just being able to do it at home and ON TIME was great, because I didn't have to spend the time to commute and spend time in the waiting room to MAYBE see my doctor at my scheduled appointment time. The doctor called me as soon on the dot of my appointment time."
Puka
Waimea, Big Island
The best part was definitely seeing the doctor on the video call. It is comforting as a patient that there is a real doctor on the other end laying eyes on me and the symptoms I could be having.
Chris
Kona, Big Island
"The doctor was great and took his time explaining my symptoms and treatment! Actually the whole experience was fantastic! I can't believe how efficient you guys are. It hasn't even been 30 minutes and I've already been contacted by pharmacy that my prescription is ready. This was great. I would definitely use this service again and highly recommend to others!"
FOUNDED BY PHYSICIANS
We're trusted by local individuals and organizations.
Trusted By